Product Details
Madeira Incredible is a thread brand. 70% of the buyers of this product have rated it 5 Stars. So, you could give it a try. We've included the product details down below, please check it up to get sure that this is the product you're searching for.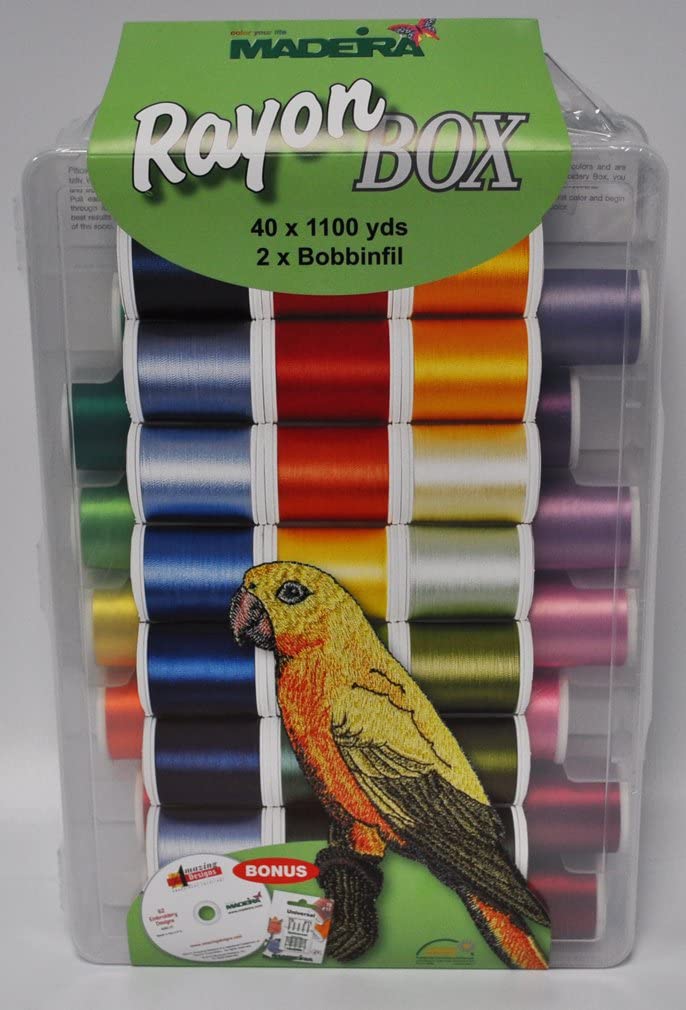 Thread weight: 40
Thread fiber: Rayon
Quantity: 80 spools X 220 yards + 2 spools X 1650 yards bobbin thread
Features
Madeira Incredible is well-packed & comes with a customized embroidery design CD with 42 customized designs, a fully printed color card and a nice storage box that has a thread cutter.
Pros
Suitable for outdoor fabrics
Tangle-free and can be used directly from the box, therefore easy to use
Numerous color choice
Rayon has a luxurious sheen and is vibrant, silky
Strong, therefore no breakage
Cons
Not enough thread per spool
Rayon may lose its sheen over time
Helpful Tips
Madeira Incredible does not break as much as a sulky, brother, or thread art. Also, Madeira doesn't have a place to order replacement colors.  It has little holes in the plastic container so that you don't have to take it out of the package, just feed the thread through the holes and sew!
Our Rating 4.8/5
Frequently Asked Questions
Q: What's the thread amount in each spool?
Answer: 220yd/ 200m rayon embroidery thread(80 Spool) plus 2 spools of 1650yd/ 1500m Bobbin fill bobbin thread.
Q: What's the weight of the product?
Answer: 4.95 pounds
Q: Is the product durable?
Answer: Yes, Madeira Incredible is strong&durable. It usually doesn't break.
Q: Is there a list of the color numbers to see before purchase?
Answer: No, but there are many colors included and customers usually get their desired colors and even many more than that.
Madeira Incredible is a well-suited thread brand for machine embroidery. It might appear costly to some users, but the service is worth it.