Cricut Easypress combines the speed & lightweight portability of a regular iron with the evenly-distributed heat and the surface of a heat press. It is very essential and useful for you if you are looking for a handy, portable, and lightweight heat press for small projects. Why? Because it is the most cost-effective heat press and it can be used very easily than the other 10 heat press machines.

The EasyPress has the speed of a heat press but the convenience of an iron which makes it more nice and useful. It is more efficient than a normal iron when it comes to vinyl printings. You can print designs and images on small projects like baby clothes, accessories, handkerchiefs, socks, bags, and more. It is also very easy to get used to!
Note: If you're looking for a bigger heat-press check out F2C PRO.
Features
The Cricut EasyPress 2 provides 6″ x 7″ (15 cm x 17.5 cm) surface which evenly heats up efficiently. It professionally transfers heat for better results. It has an advanced heat plate design with the ceramic-coated surface which protects the plate from damages and makes it stronger. Its temperature rises up to 400 degrees Fahrenheit (205 degrees Celsius) and it can be controlled by the control panel. It provides professional iron-on results within 60 seconds. It has an insulated safety base and auto-shutoff feature which makes it safer to use. Its body is made of plastic for better movement. It has a USB port for firmware updates. It beeps when the printing is done. All the features make this machine safe for home-usage.
6″ x 7″ sized heat plate
Its 15 cm x 17.5 cm heat plate helps to print on small projects and it makes the print stick to the fabric. The print will not be removed from the fabric after multiple washes. To imprint the vinyl design the heat plate needs to be pressed gently against the fabric. The beep makes sound when the printing is done. It is a perfect size for those who have to work 24/7.
Ceramic-coated surface
The heat plate has a coat made of ceramic which makes the cleaning easier. It also makes the surface heat up 25% faster. The heat press can be used for a long time because of the damage proof surface. It is also a non-stick which makes your project look better.
Temperature and Time
This machine has a temperature limit up to 400 degree Fahrenheit (205 degree Celsius) and a timer. It requires maximum input 120V outlet. Its temperature evenly spreads on the heat plate so that the vinyl will smoothly stick to the fabric without any burning. The timer also makes sure that the printing is perfect but you have to adjust it as your needs. Those are controlled by the control panel.
Control panel
The control panel is on top of the press and it has six buttons. You can easily control the temperature and time by clicking those buttons. The buttons have icons instead of texts on it which makes the usage easy. There's one switch on/off button and two-button for increasing and decreasing the temperature and time. It has a digital display on it. The controlling is much easier with it.
Insulated safety base and auto-shutoff
The heat press comes with a safety base which covers edge-to-edge of the heat plate. It keeps you or your family safe from any kind of injury. It has an auto-shutoff function which turns it off if you leave it on after your work is done. It is very safe with these two features.
Lightweight, portable, easy to store
The press's body is made of plastic which makes it lighter than other heat presses. The digital design of this machine makes it smaller and more portable. It is very handy when it comes to storing it. It is ideal for those who are busy and don't have the time to arrange everything.
USB port
It has a USB port in its backside which can be used for firmware updates.
Modern & Stylish Look
This device is modern and stylish in design, the simple and cool design of this device steals the attention of most people.
Simple Controls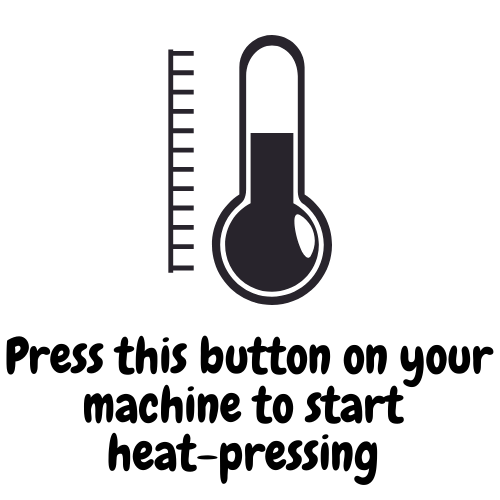 The controls of this device are pretty simple so that everyone can operate it easily. All you have to do is turn on the power, set the timer and temperature, and push the "Temperature" symbolized button to start the machine. Simple right?
Various sizes
You can choose the size of the product you want so that you'll get just the perfect one for your heat-pressing. The sizes are:
Pros
Professional results
Easy to use
even heat distribution
lightweight and portable
Has a nice design with nice color
Safe for any work, any place
Cons
Pressure needs to be applied
pressing pad is not included
Not recommended for use outside North America.
Helpful tips
To find the correct time and temperature settings for your specific iron-on project, refer to our Interactive Quick Reference Guide.
Always work on a flat surface. It will help you work properly.
Always use Cricut EasyPress at room temperature. It will make sure you don't burn your project.
preheat your surface. It will save your time.
Before using it, ensure that fabrics and other base materials are completely dry.
Always keep Cricut EasyPress to a safe place out of reach from children when not in use.
Before using the press, ensure there is no tape or protective film over its control panel.
Use a Cricut EasyPress mat. It is a little expensive but it can make the vinyl design stick to your project all around.
Wait for at least 24 hours before the first wash after application.
Turn fabrics inside out before washing.
Frequently Asked Questions
Q: What size Cricut easy press should I get?
A: The 6?x7? is perfect for small projects like hats, shoes, socks, mittens/gloves, scarves, and napkins. The 9?x9? is great for kids' clothes, bags, sweatshirts, pillows, aprons, towels, table runners, and costumes.
Q: What is the difference between Cricut easy Press and easy press 2?
A: The EasyPress 2 now remembers your heat temperature and time settings when it turns off. The original EasyPress does not remember that, which may not seem like a huge deal, but it is a convenience that makes things a little quicker and easier.
Q: Does a heat press work better than iron?
A: Yes, using a heat press is easier and faster, but it is possible to achieve a quality press with a household iron if you do it correctly. Using a heat press is recommended for better results.
Q: Do you need a mat for Cricut's easy press?
A: Use Cricut EasyPress Mats. They have properties in them that take the heat and sends it right back up to your surface material. It has been found that with the EasyPress mat, you don't have to use as much pressure.
Q: How do I use my Cricut EasyPress 2?
A: This video will help you-
Conclusion
The package includes one Cricut EasyPress 2, a safety base, a welcome book, and materials for a practice project. Amazon is selling this product at $85.50. It provides flawless iron-on results in 60 seconds. It is a perfect complement to Cricut cutting machines. It is a little expensive but perfect for any workplace. Also, thanks to Amazon's policy that allows you to get the product delivered for you free if it's over 25$.