The Brother XR9550PRW is a modern, new age sewing machine. It is a limited edition model with a lot of cool new features. It has some similarities with Brother SE600.
Our Brother XR9550PRW Review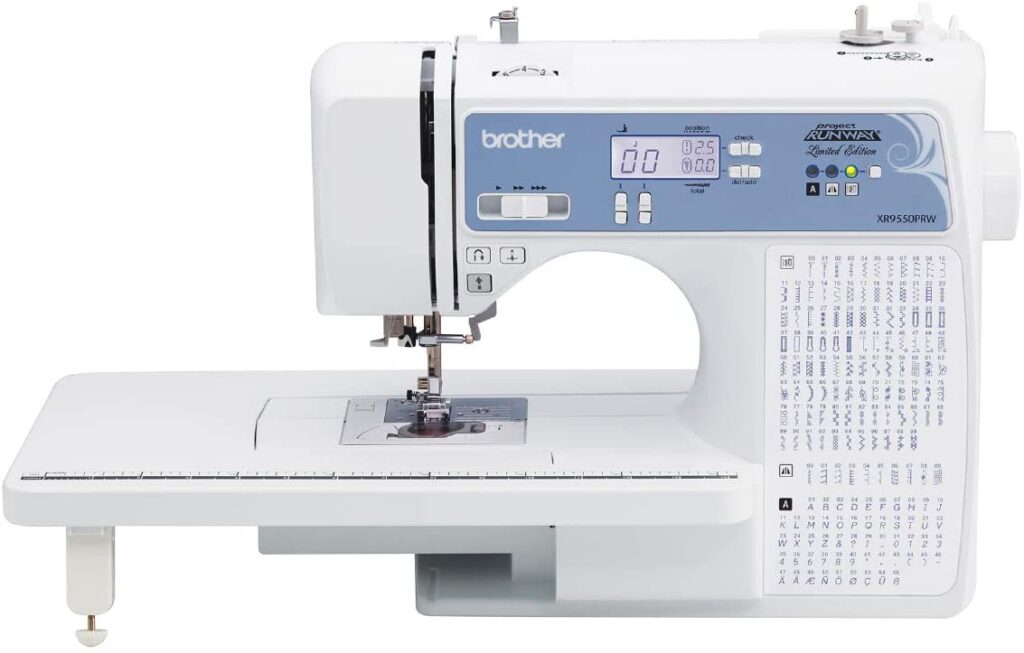 Features
Brother XR9550PRW is loaded with features. To keep up with the pace of technology, machines like this are very much needed. The features of this machine are-
Dimensions – 12.48″ x 16.26″ x 7.01"
Weight- 10.14 Lbs
Automatic Needle Threader
Putting threads into a needle can be a nightmare to a lot of people. But Brother XR9550PRW has solved it for them.
Automatic Bobbin Winding System
Brother XR9550PRW has a top drop system. You just need to drop the Bobbin from the top in the Bobbin case and the needle will automatically attach with the thread from Bobbin.
LCD Screen On The Front
The LCD screen on the front displays correct options for the size of the stitches based on the stitches you select. If there is any error, an error code will show up on the screen which can be cracked by reading the manual.
110 Versatile Built-In Stitches
Brother XR9550PRW gives a wide range of 110 built-in stitches which can be adjusted to your preferred size. It offers regular utility stitches, decorative stitches, heirloom stitches, and alphanumeric stitches. It also offers reverse stitch options. Among these stitches, there are 55 mixed stitches which can be used for lettering and monogram purpose.
Different One Step Button Hole Styles
Brother XR9550PRW gives you the option to choose 8 different buttonhole styles and this can be done with one press.
Speed Control Slider
This machine has a speed control slider which will give you three options for sewing speed- slow, medium, and high. So once you choose the desired speed, Brother XR9550PRW will sew at that speed constantly.
8 Different Sewing Feet
Brother XR9550PRW offers 8 different sewing feet which are – 
Button Sewing
Buttonhole
Zipper
Zigzag
Blind Stitches
Overcasting
Monogramming
Quilting.
Contains Free Arm
Brother XR9550PRW contains a free arm that basically can be used for cuff or sleeves stitching.
Built-In Work Light
It has a built-in work light. So you can continue your work even if there is insufficient light at the working space.
Pros
Easy to use.
Easy to install.
The price is reasonable in comparison to its efficiency.
Portable and pretty lightweight.
Comes with a detachable wide table.
Gives a maximum sewing speed of 850 stitches per minute.
Automatically indicates an error.
Includes manual thread cutter on the side.
Includes handwheel so that the needle can be moved manually
Includes thread guide on the top of the machine which shows pictures of how to put Bobbin windings.
The machine comes with a foot pedal controller as an optional accessory
Comes with a warranty of 25 years from the Brother company.
Cons
This is not a heavy duty machine so it can't be used commercially
As it has plastic body parts, it's not that durable.
Though it comes with a variety of accessories, still it lacks to accommodate with the right ones.
As it is a limited edition machine it can't be found at market after a certain period of time.
As the Monogramming font is built in so if someone doesn't like that font then they cannot do much about it.
For beginners controlling the speed might be a little difficult.
FAQ
Q: Is it suitable for beginners?
A: It is very much suitable for beginners. In fact, If you are a professional you might not want to use it.
Q: Can this be used commercially?
A: It won't be as good for commercial purposes but it is good for small business owners who have just started their career. Also, those who want to design clothes at home can go for this one.
Q: Is it worth the price?
A: Yes. With all those features and accessories, it is totally worth the price.
Q: Is it portable?
A: Yes. As it doesn't weigh more than 11lbs, it is easily portable.
Q: Is it user friendly?
A: Those who are tech-savvy, they would live this machine. But people with lesser technological knowledge might have a tough time working with it. But it comes with a manual which explains everything quite well. So, with a little practice, everyone can get a good hold on this machine.
Q: Can this machine be used for quilting?
A: Though it can be used for quilting it might get a little difficult to do quilting with this machine and it is not recommended.
Q: Can this be used for embroidery?
A: It is not recommended for embroidery purposes.
Q: How noisy is this machine?
A: Because it's a machine, it will definitely make some noise but the noise is bearable.
Q: Does it come with a foot pedal?
A: It does include a foot pedal. So those who want to sew using a foot pedal will be at ease with this machine.
Q: Is it available in the store?
A: As this particular model is a limited edition one, it might not be available at the store. But with a little bit of searching, you might get it online.
Helpful Tips
You should check the manual before starting to use it as it has a lot of features which can get a little confusing.
It is recommended to sew cotton fabrics with this machine.Fabrics which have thicker texture won't sew as easily as cotton with this machine.
Those who intend to use the floor pedal should keep this in mind that the food pedal has nothing to do with speed.The machine will work at your selected speed unless you change it.
Conclusion
The Brother XR9550PRW sewing machine is a decent one.It has a number of great perks to it.If you are a beginner, or you want to sew for practice or for mere hobby, you can definitely go for this machine.It won't hurt your pocket.So those of you who are on a budget can definitely go for it.Also it is really convenient in terms of use.As it comes with a lot of built in features, you do not have to do much work.It is a good looking, computerized, convenient machine and it is highly recommended.